Enviro Web Services EWS
Empowering Environmental Web Mapping and Reporting
EWS is an online environmental mapping tool that puts the power of GIS and automated reporting into the hands of scientists, environmental consultants, industry advisors, and municipalities, allowing them to efficiently interact with maps and data like they have never been able to before.
Our elegantly designed, modern solution to paper maps and inefficient, error-filled manual reporting is a web mapping and reporting tool that aggregates up-to-date environmental, energy, water and geological maps and datasets into a single platform that has the capability to synthesize this data into analytics-driven reports. Our current service areas are Alberta, British Columbia and Saskatchewan and we will expand to other jurisdictions and areas of expertise as demand grows.
Sign In
All the data that you need, in one place
Accurate, up-to-date
Cost and time effective
Preserves corporate memory
Automatically generated reports created by subject matter specialists that synthesize data into understandable text, tables and figures
Customizable to your specific needs and workflows
Products:
Access, manipulate and analyze data from multiple sources on one, easy-to-use web mapping tool.
Features
Simple, intuitive navigation and usability
Save your searches and favorite layers for next time
Interact with your maps

Drawing tools
Filter, search and interact with your data

Hundreds of data layers, selected, sorted and styled
Coordinate capture, measurement and radius search tools
Export Searches
Easily access original references for reports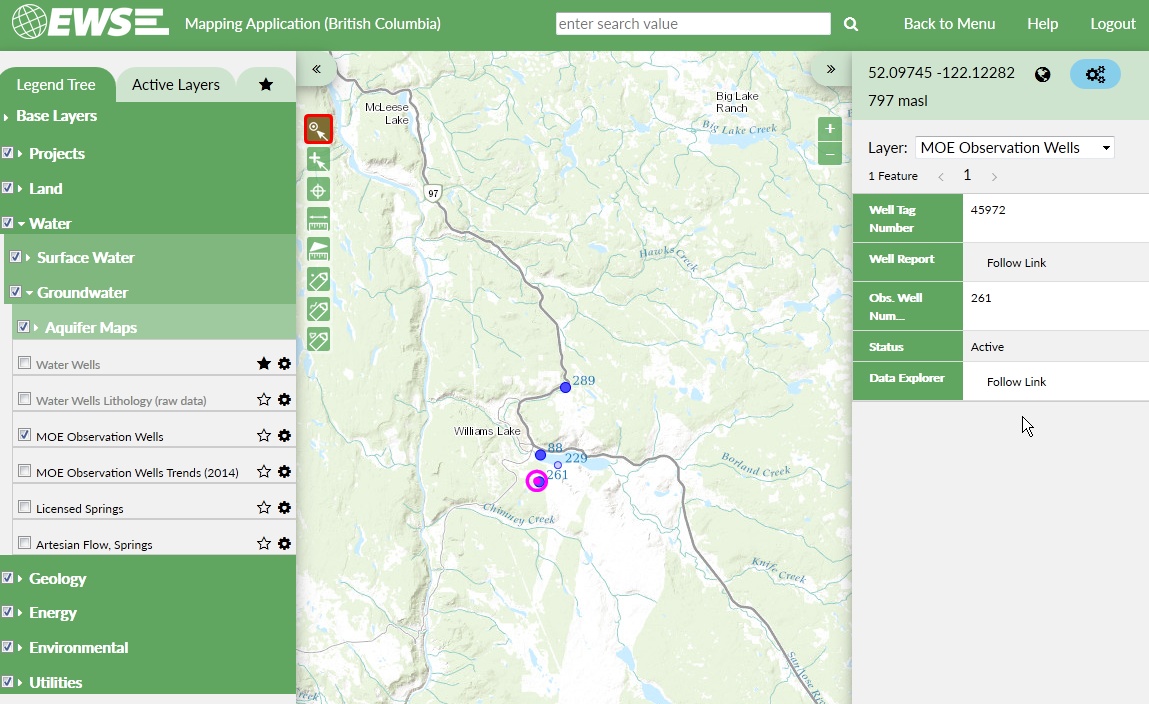 Information Sources
Topographic Maps and Satellite Imagery
Grids & Administrative Boundaries
Climate
Geology
Groundwater (Hydrogeology)
Surface Water (Hydrology)
Geology
Energy
Environmental
Biology (wetlands, caribou, etc.)
Utilities
Please contact EWS to find out more.
Learn More
Environmental Background Report
EWS is excited to offer accurate, informative environmental background reports that present and synthesize a myriad of sources into easily understandable text summary, tables and figures, so environmental consultants, industry-leaders, and regulators managing contaminated sites and environmental issues can quickly understand the regional setting of a site in a cost-effective manner.
Accurate & Informative
Text, Tables and Figures
Meets ESA and Phase II regulatory requirements for Alberta
Learn More
Enviro Web Services (EWS)
Modern consultants need to streamline workflows, to not only preserve corporate memory but make it readily accessible, and to take full advantage of current data sources so that they can satisfy increasing demands for comprehensive answers to complex questions.
Enviro Web Services (EWS) arose from such a company in response to repeated client requests for access to the tools and datasets that have been developed and continually updated over the last five years.
Contact Us